ROMAN
Roman
ARCHITECTURE
has been inspiring designers for centuries.
The arch is the mainstay of Roman architecture
, and can be seen in most of the famous buildings of the city. This Italian style is once again dependent on the architecture of the ancient Greeks for its inspiration, and many of the structures with columns and pediments can be
traced to architecural designs from ancient Greece
.
ROMAN ARCHITECTURAL STYLE INSPIRATION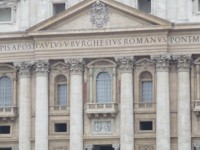 Exterior Design
ARCHITECTURAL FEATURES
The scale of the building is huge, with tall and wide columns supporting enormouse arches. These in turn support an enormous barrel vault, and a central dome spanning 42m. The church is embellished with marble and gold, in a tasteful blend of ornate and quieter areas.


THE DOME
The dome of St Peter's Basilica is 42m wide, and was especially designed to be slightly smaller than the dome of the Roman Pantheon. The architect of the dome and basilica was Michealangelo.


FACTS ABOUT THIS ROMAN MASTERPIECE
The church was completed in the year 1626 in the Renaissance and Baroque style. It is located in the Vatican City in Rome. There were several architects the most well-known being Michaelangelo and Bernini.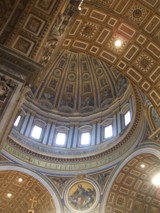 The Dome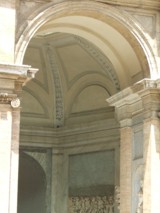 An Archway