ROMAN ARCHITECTURE
the mainstay of Roman architecture is the arch, and this has been insiring designers for centuries. The arch is and can be seen in most of the famous buildings of the city. This Italian style is once again dependent on the works of the ancient Greeks for its inspiration, and many of the structures with columns and pediments can be traced to designs from ancient Greece.
Roman Arch
Historic Roman Arch
The Arch that was Copied by the Arch de Triomph in France.
THE DOME
The dome of St Peter's Basilica is 42m wide, and was especially designed to be slightly smaller than the dome of the Roman Pantheon. The architect of the dome and basilica was Michealangelo.
Vaulted Ceiling
VAULTED CEILING
The vaulted ceilings of many of the churches in Rome are ornately decorated with contrasting colours. The gold lining of these arches is magnificent.  
1626 Baroque Church
The church was completed in the year 1626 in the Renaissance and Baroque style. It is located in the Vatican City in Rome. There were several architects the most well-known being Michaelangelo and Bernini.
THE ARCH is how builders in the time of Rome supported larger structures. At that time reinforced concrete had not yet been discovered as a means to span larger widths. The use of many arches gave rise to a distinctive character of the architecture.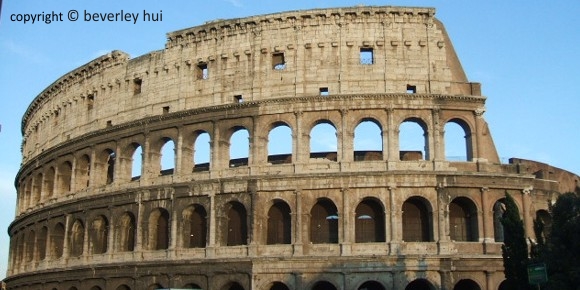 THE COLLOSEUM
THE COLLOSEUM: Easily the most well-known building in Italy, the colluseum is distinctive with its many many arches in an eleptical multi-story formation. The arches are not just a stylistic concept, but were the means by which high buildings could be created in the time when Rome was the center of civilization.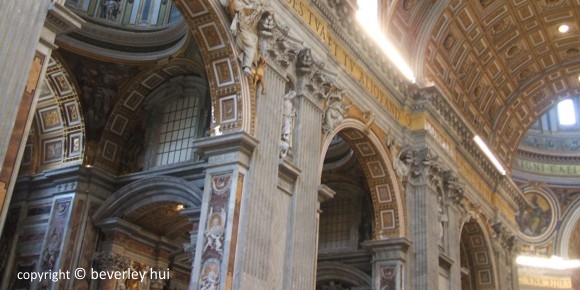 ST PETERS BASILICA FROM THE INSIDE
The scale of the building is huge, with tall and wide columns supporting enormouse arches. These in turn support an enormous barrel vault, and a central dome spanning 42m. The church is embellished with marble and gold, in a tasteful blend of ornate and quieter areas.
Golden Horse


Many memorable sculptures are found in Rome, such as this golden horse.


Golden Horse Outside the Roman Museum
Beautiful Arches


The Romans were not only masters of the arch in the structural sense, but also knew exactly how to detail and adorn the arch to bring out its beauty.


Beautifully elaborated arches
Roman Fountains


There are too many fountains to count in Rome.


Roman Fountains
ANCIENT ROMAN RUINS
A museum is built right next to these ancient Roman ruins, making it so easy and enjoyable for visitors to experience.
SPANISH STEPS
The church is at the top of a multitude of steps. These days there are so many tourists picnicing on the steps it is hard to photograph
ROMAN GOVERNMENT BUILDING
Many graceful old buildings in Rome are now used as official government offices.