ROMAN
The
SPANISH STEPS
are located in the heart of
Modern
day Rome. Wide sweeping steps make their way from the Piazza de Spagna up to the Church the Trinita dei Monti, which was built in 1503. The church has twin towers each with an arch, a small pediment and a dome. The church is
tyical of Roman Architecture of this period
.
ROMAN ARCHITECTURAL STYLE INSPIRATION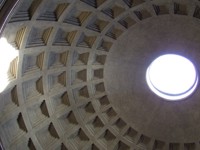 Roman Pantheon Dome
ROMAN PANTHEON

This building was buit by the Emperor and architect Hadrian in AD 125. The perfect proportions, and light source from the center of the dome, create a timeless beauty. The dome is the widest in Europe and is exactly as high as it is wide - 43.3m. The ceiling is coffered which adds to the structural strenght, enabling an empty circle at the center for light (and rain) to penentrate. This is an enduring marvel of Roman architecture and a must-stop for tourists.


TREVI FOUNTAIN

This fountain was designed by architect Nicola Salvi in 1762. It is the largest fountai in Rome, and one of the most famous in Europe. The Roman architecture backdrop, it's size, and the exstensive sculptures make it memorable and it was further publicised by its appearance in the film La Dolce Vita, making it a popular tourist attraction in Rome.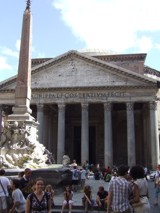 Roman Pantheon Exterior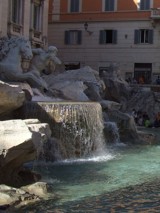 Trevi Fountain