ROMAN
This
ROMAN BUILDING
consists of a curved central portion with two wings. A collonade runs the full lenght of the facade. A central sculpture of a horse and rider creates a focal point of the design,
and embodies many elements of Roman architecture
.
ROMAN ARCHITECTURAL STYLE INSPIRATION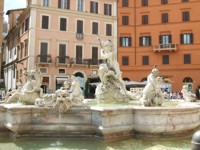 Typical Roman Piazza
ROMAN PIAZZA STYLE FEATURES

THe piazzas in Rome are wonderful public spaces, usually surrounded by five storey buildings with small apertures. These usualy have dark timber shutters and regular spacing. The walls are often painted a warm colour such as burnt orange orlemon yellow. The piazza typically has church facade on one side and a fountain with sculptures.


ST ANDREA DELLA VALLE CHURCH

The interior of this church is a truly exquisite architectural masterpiece. Unusually painted blue, the colour contrasts with lighter decorations that mark the structure of the columns, vaults and a large dome. Many of the frescoes (ceiling paintings) are by Domenichino. The exterior of the church is a great example of Baroque style architecture.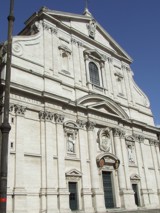 St Andrea della Valle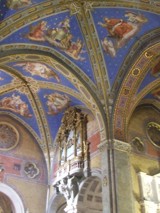 St Andrea della Valle Interior