LUXURY RESIDENCES
As "Luxury residential architects" we specialises in the design of high-end homes and mansions. Whether you are looking to design a luxury classic villa on the slopes of a vineyard, or a cutting-edge high-end holiday home with vistas over the Atlantic, Beverley Hui
architects
has experience and inspiration to develop a custom residential design that will be enjoyed for generations to come.
House Maltman
HOUSE MALTMAN with it's long blue pool that reflect the Cape Vernacular style gables surrounding it, creates a space where anyone would feel able to relax and enjoy the pristine mountain views surrounding it. Inspired by
Smuckler Architect
Reditus Farmhouse
REDITUS FARMHOUSE with its tall facade and sweeping beams, creates a luxurious atmosphere around the entertainment deck. Inspired by
Orwaia
French Villa
the FRENCH VILLA was designed for wealthy clients to overlook a lake in the Cape Wine country of South Africa. Inspired by
SCDA Architects
Open plan living
Luxury and spacious open plan living go hand in hand as attested to by this living room, with open roof truss design. Inspired by
Taylor Hannah Architect
The copper bath
A tough of the expensive, such as this copper bath, are what make luxury living so attractive for those who can afford it.Inspired by
Chase Chrown
House Breytenbach
HOUSE BREYTENBACH is a 5 bedroom home that was designed in the Modern Cape Dutch style. The straight white gables at many different angles make this house unique and appealing. Inspired by
WATG
HOUSE REDITUS is a contemporary style house that was designed for a wine farm just outside of Stellenbosch. Expansive windows with a low emmisivity coating, take in the breath-taking views of the Cape wine region. The modern glass appertures are accentuated by sweeping architectural beams. The colour palette was carefully designed to compliment the architecture. Inspired by
Memar Architects
.
CONTEMPORARY STYLE KITCHEN WITH MOUNTAIN VIEWS
The kitchen was located on the top floor in order to access some of the Winelands most exquisite views. Genuine bamboo tops
transform
the charcoal sprayed duco cupboards, to create a modern kitchen with a depth of contrast.
FARM HOUSE ON REDITUS WINE FARM - ENTERTAINMENT AREAS
THE ENTERTAINMENT AREA is vast comprising a large deck over the cellars, a braai room, and a sparkling splash pool. see
REDITUS FARM FACTS:
An H-shaped house plan
4 bedroom home
Features an expansive pool deck with breath taking views
Situated in Devonvale, Stellenbosch
Covered Braai room with pizza oven that can be closed in adverse weather
Large windows take in the view of the Cape mountains
The home was built in 2013
A modern style home contrasting with the Cape vineyards
MODERN BATHROOM


With soft and subtle hues on the walls, the white stand-alone bath stands restfully in front of the dark stained double doors. A relaxed moment to unwind and reflect on events of the day. While not being overtly contemporary in its style, this is a fresh interior with a leaves a modern impression.
The Modern Bathroom
HOUSE BREYTENBACH
HOUSE BREYTENBACH goes against the usual symmetrical design that is expected in Cape Duch Contemporary architecture. The gables at different angles and sizes create an interesting interplay as their reflections sparkle in the long blue pool asside numerous white columns. This is
luxury real estate
at its best.
NIGTHVIEW OF HOUSE MALTMAN
NIGHTVIEW OF HOUSE MALTMAN: During the evenings the home really looks it's best, as the careful lighting design picks up the most important features while giving the home a soft glow.
THE LONG NARROW POOL
THE LONG NARROW POOL is a memorable feature of this Cape Vernacular style house. A large patio overlooks the pool and the american style shutters allow the owner to block off the area from the wind when necessary. They can also be opened up when the weather is good, to allow for wonderful times with friends and family. (see
luxury portfolio
for more examples of luxurious modern living).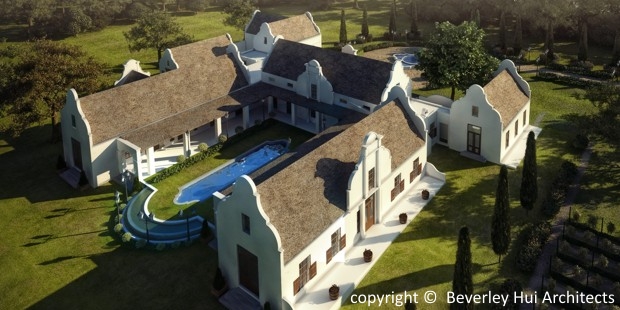 NORMANDY FARMSTEAD FOR FRANSCHHOEK
NORMANDY FARMSTEAD is an expansive Cape Dutch style home that was designed for a wine farm in Franschhoek. The carefully crafted gables on the ends of each roof, are the definign feature of the style, and give the home its unique charm. (see
christies real estate
for more stunning examples of this kind).
CONTEMPORARY BATHROOM
THIS CONTEMPORARY BATHROOM is designed with soft blue mosaics, swathes of frameless glass and a very unusual shell-shaped free-standing bath. These interiors are fitting for
luxury homes of the world
. High net-worth clients always ask for something special in the bathroom and Beverley Hui architects does not disappoint.