REDITUS FARMHOUSE
This contemporary stellenbosch Farmhouse
has cellars embedded in the side of the mountain. Olive fields are harvested for processing in the spacious cellars.


The Farmhouse for Reditus farm included a basement with rustic cellar doors in sandstone surround. The cellars are utilised for the making of olive oil from olives grown on the farm.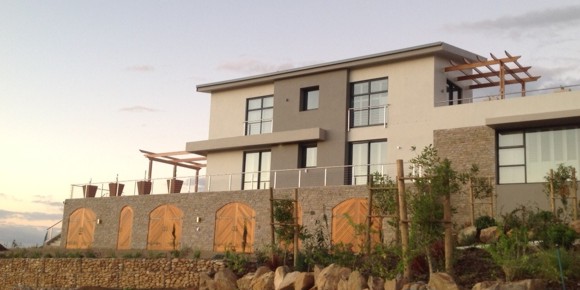 THE SUN SETTING ON THE WESTERN FACADE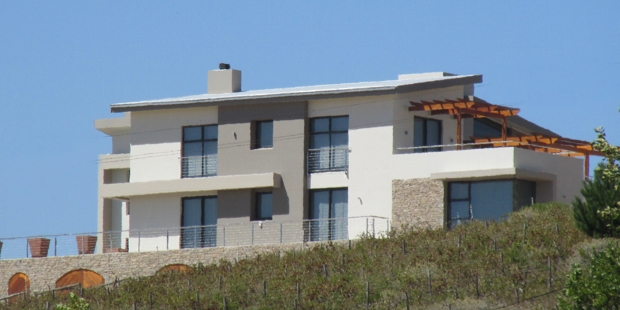 THE HOUSE AS SEEN FROM THE SURROUNDIGN OLIVE FARM
VIEW MORE CONTEMPORARY HOUSES BY THE ARCHITECT >>
GREEN BUILDING


The home was designed with suistainable building practice principles in mind. It was one of the first homes to make use of a grey water harvesting system, and improved roof insulation that preserve water and energy resources.


CONTEMPORARY INTERIOR
The ten degree roof pitch with exposed trusses add interest to the living area. Often the living area is located on the ground floor, but in this case the 360 degree views warranted that the living areas should be on the first floor.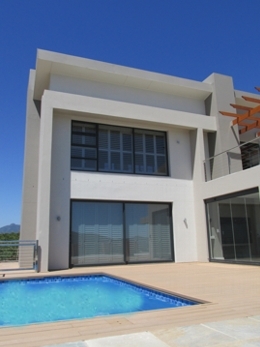 The Large Entertainment Patio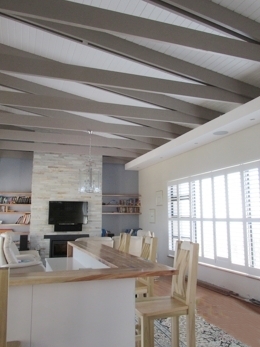 Top floor living area