HAGELAND ESTATE

House Van Zyl in Somerset West is well situated to capture views of the Strand Beach and Helderberg Basin. The contemporary style home with contrasting colours and textures stands out from its peers.


The interior
has been designed with soft and sophisticated colours. A stunning sculptural white bath takes center stage in the open plan bathroom. This holiday home is a true joy for its owners.
VIEW MORE CONTEMPORARY HOUSES>>
HAGELAND ESTATE SOMERSET WEST


This cutting edge home was desgined with crisp edges, and overlapping panels. The generous guidelines in the Estate made it possible to push the boundaries toward a modern result. The pitched roof is not visible from the roadside, accentuating the appearance of floating surfaces.


BEACH VIEWS
The views over the strand area are pristine, and this was taken into the highest consideration during the design process.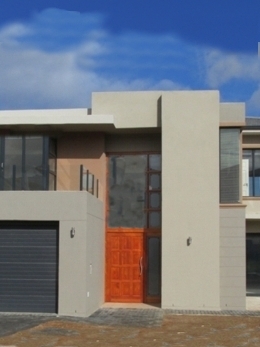 The Front Facade