H-SHAPED HOUSE
Cape Dutch style H
The h-shaped house plan is a speciality of Beverley Hui architects. We have designed a number of interesting variations on this popular layout over the years in a great variety of styles. See also some examples of T-shape and L-shaped plans here.


L-shaped House in Cape Vernacular Style
H-SHAPED HOUSE PLANS
The H-shape provides many wings for housing a large number of rooms. These are easily resolved on the elevation, because of the natural symmetry of the plan from all directions. The H-plan is a very popular layout for building plans in South Africa, and can be resolved in both modern and traditional styles of architecture.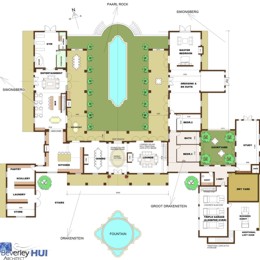 Typical H-Plan
BENEFITS OF THE H-SHAPED PLAN
We include a number of house plans to give you a feeling for our architectural layouts. Plans in H-shaped, U-shaped and T-shaped configurations, have the benefit of ease of circulation while providing ample light. Dark corners and dead space are minimised. These house plans can be adapted for various sites and accommodation conformity with all of these regulations.