H-SHAPED HOUSE PLANS
We include a number of house plans to give you a feeling for our architectural layouts. Plans in H-shaped, U-shaped and T-shaped configurations, have the benefit of ease of circulation while providing ample light. Dark corners and dead space are minimised. These house plans can be adapted for various sites and accommodation requirements.
H-Shaped House Plans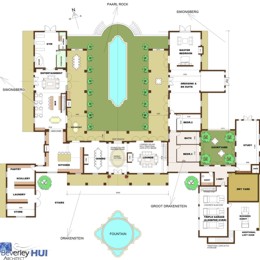 H-SHAPED PLAN 1:
Large H-shaped Plan.
House features huge entertainment area and gym
4 to 5 bedroom plan
Triple garage.
House Plan originally designes as a Farmhouse
Modern Architects | House Plans | Stellenbosch Architects | Somerset West | Residential Architects | Franschhoek | Cape Town | Western Cape | South Africa