Stellenbosch Contemporary
A passion for creating spaces that capture the imagination drives us to innovate constantly.
ABOUT US

Our vision is to create a company that puts its client's interests first and simultaneously brings innovative and breathtakingly beautiful works of architecture into the world that will be enjoyed by generations to come. We endeavour to provide clients who invest in our services with the highest levels of excellence at all times.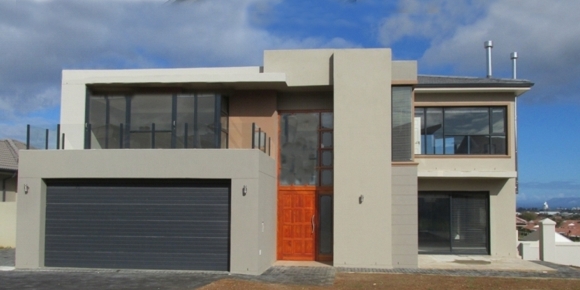 VAN ZYL RESIDENCE
BEVERLEY HUI
Beverley Hui graduated with honours from the University of Pretoria in 2002. She immediately started work at a well known firm that designs award winning malls in South Africa and internationally – Bentel Associates International. This exposed her to the inner workings of a successful architecture firm, and gave her the grounding of her experience.
In 2003 she moved to Cape Town where she joined forces with a small and highly driven firm, Cala Moller Argitek. Here she gained further experience in every aspect of design and construction, quickly rising to a high level of responsibility in the company.
In 2005 Beverley opened Beverley Hui Architects, capitalising on the boom in construction in the Stellenbosch area at the time. This gave her an open door of opportunity to design many luxury homes on local Wine Estates. She also worked on numerous large projects for Dream Supreme Properties, including industrial and office developments.
By collaborating with various specialists in 3D modelling, interior and architectural drafting, the company has increased its capacity and improved architecture services during construction.
In the Period from 2007 to 2017 the company has been responsible for the planning and architecture services on numerous luxury homes and farmhouses. We have also completed concept plans for various wedding venues and boutique hotels.
Beverley Hui now has the vision to further grow the company and expand further into the fields of commercial and hospitality design.
PHILOSOPHY
ORIGINALITY


The quest for complete originality is a cornerstone of our company. We seek to bring into the world concepts which have never been thought of before. It is our belief however, that originality does not exist in a vacuum, but rather comes from standing on the shoulders of giants. By investigating and emulating the best aspects of previous designs and then taking them a step further through creative spark, we are able to push the boundaries of architecture forward in a relentless drive.
CONTEMPORARY CAPE DUTCH
OUR APPROACH


A leader learns as he goes along. Years in practice have testified to the fact that true understanding comes from a humble approach of learning as one goes. By taking a new problem and seeking to understand through investigation, talking to various other professionals and thinking it through, effective and elegant solutions are achieved. It is understanding that is the wellspring of success. By keeping the company small and modular we streamline internal communication and provide attentive service.
LIGHTING AS AN ART
COMMUNICATION


We seek to furnish clients with correct information surrounding the issues pertaining to their project, and to provide realistic goals and milestones which can be executed efficiently. The client is kept up-to-date throughout the planning process through regular correspondence. By advising the client on adjacent professionals to be appointed, we arrive at an outcome that exceeds expectations.
UNUSUAL SWIMMING POOLS
OUR INSPIRATION


We are most inspired by nature. Architecture revolves around creating objects that have a usable purpose and are at the same time beautiful to the eye. Where is this marriage better exemplified than in nature itself? In addition to that we immerse ourselves in the work of top local and international architects to stay in touch with latest developments in the field and abrim with fresh ideas.
ATTENTION TO DETAIL
AWARDS & PUBLICATIONS
2001-07-06 Winner of the UIA international competition "Water & Architecture"
2008-09-01 Front cover feature in South African Home Owner Magazine (House Maltman)
2010-08-10 House of the Year, in Schonenberg Estate Somerset West (House Wood)
2011-04-30 Feature article in Garden & Home
2013-05-14 Winner of "Best single unit Development" at African Property Awards (Polo House)