BOREHOLE WATER & REVERSE OSMOSIS
Clients are asking how they use
reverse osmosis
memebranes to clean their borehole water. We have seen a couple of such systems implemented successfully on our projects. This process is indeed the best way to remove iron and other unwanted impurities from the water. However, very thorough pre-treatment is needed before the water reaches the membrance, to avoid it becomming clogged and damaged in no time at all.
WHAT ABOUT FILLING SWIMMING POOLS?
Clients are asking how they can use their borehole water in their swimming pools. If you have low iron levels you might throw in some chemicals to settle the iron out. The best way however is to use a reverse osmosis machine to take the iron out before it enters your swimming pool. Filling of swimming pools is illegal with municipal water due to current water restrictions. Filling using borehole water is frowned upon, but has not been completely banned at this stage.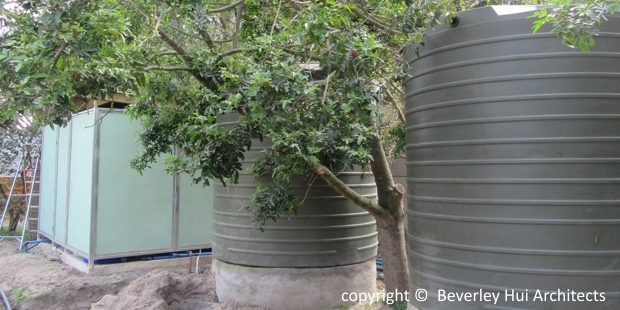 PHOTO OF A TYPICAL WATER TREATMENT PLANT
The photo shows an example of a treatment plant that can be used to convert borehole water into drinking water. Every time the water is pumped from one tank to the next it undergoes another level of filtration.
TYPICAL PRICES OF BOTTLED RO WATER AT THE SHOPS
Most people will be familiar with bottled products at the shop that are comparable to spring water, and typically sell for R3 per litre. Reverse Osmosis H20 is normally called "prepared water" in these contexts. Some retailers sell reverse osmosis drinking water from specialised shops, where customers are required to bring their own containers, and typically charge R1/L.
What is the difference between ordinary filteration methods and reverse osmosis?
Filtration leaves some salt, magnesium and calcium, and small traces of iron. RO removes all impurites except tiny amounts of harmless bacteria, producing a product that is pure and is suitable for any application.
WHY THE SEVERE WATER RESTRICTIONS IN THE CAPE
Due to the reduced rainfall caused by climate change, together with the growing population in
Cape town
, severe water restrictions have come into effect making it impossible to maintain a swimming pool using ordinary supply.
COMMERCIAL USES OF RO WATER:
NOTE: SOME USES CURRENTLY ILLEGAL:
Commercial and industrial uses of RO water include commercial laundry and washing, cleaning of facilities, car washes, bin sanitising.
INDUSTRIAL USES
Cooling of industrial plant units, building and construction industry, supplimenting of agricultural supplies, growing of food in green house tunnels.
DOMESTIC USES
 Filling of swimming pools, watering of potted plants, flushing of toilets, bathing and laundry (see
Sundace Pools
).
COMMERCIAL USES OF REVERSE OSMOSIS WATER
Reverse osmosis water is suitable for use in the food and beverage industry, especially where municipal quotas are inadequate to meet demand.