BOREHOLE WATER FOR POOLS
ArchitectCapeTown sells water to Cape Town and Somerset West from under-ground sources that have gone through a filtration purification process to remove the iron and kill harmful bacteria. Filtered water still contains traces of salt, magnesium and calcium at levels that make it non-potable but useful for filling pools, building construction and a host of other commercial purposes. After filtration a final reverse osmosis stage removes all other impurities producing a high quality H20 that can be used for drinking and cooking.




HOW DO I MAKE A PURCHASE ?
Email us and we will provide a quotation for delivery to your area. OR provide your own transport which could be in the form of a bakkie with a tank on it. For security purposes we require identification and a deposit of 30% prior to release of our address. An appointement will be set up and When you arrive at our premises we will require the balance of the payment by cash or EFT. Once paid, we will proceed to fill with
water
your tank using a flexible pipe and pump from the main tank. The filling could take up to an hour depending on how much you require.
WHERE ARE YOU LOCATED ?
We are located in Kuilsriver. See the contact page to send us an email if you are interested in making a purchase.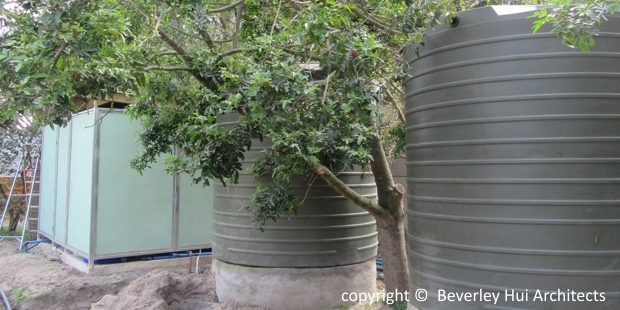 PHOTO OF A TYPICAL WATER TREATMENT PLANT
The photo shows an example of a treatment plant similar to the one used and constists of a multiple stage system involving large water tanks. Every time the water is pumped from one tank to the next it undergoes another level of filtration.
PRICE-LIST for Filtered Water - Excluding Transport:
- 250 for R1000L
- R1000 for R4000L
- R2000 for R8000L
- R3000 for R12000L
PRICE-LIST for Reverse Osmosis Water - Excluding Transport:
- 4800 for R2500L
- R8000 for R5000L
- R14000 for R10 000L
- R18000 for R15 000L
NOTE: ALL PRICES EXCLUDE TRANSPORT
PRICE COMPARISON WITH BOTTLED WATER
The price works out to 1R per litre for filtered water and less than 2R per litre for reverse osmosis water, with prices getting cheaper the more is bought in one order. Compare this to bottled products which sell for R3 per litre, and you shall find it a well-priced. Remember that the water undergoes the same intensive purification process that beverage companies use - the purification process being r-o.
What is the difference between ordinary filteration methods and reverse osmosis?
Filtration leaves some salt, magnesium and calcium. RO removes all impurites except tiny amounts of harmless bacteria, prodcuing a product that is pure and is suitable for any application. We provide both types.
WHY NOT USE MUNICIPAL WATER ?
Due to the reduced rainfall caused by climate change, together with the growing population in
Cape town
, severe water restrictions have come into effect making it difficult to maintain a swimming pool using ordinary supply. Bottled water is an expensive alernative supply that is best suited to drinking water applications. We provide a solution for bulk uses of clean water in the form of filtered water by the tank load.
FIND THE RIGHT PRODUCT FOR YOUR COMMERCIAL OR DOMESTIC APPLICATION
Are you looking to find a reliable alterative source of water for your business?
We have foreseen the shortfall of supply in the Cape, and have installed the required filtration techniques to make borehole water safe and useable for any application.
COMMERCIAL USES:
Commercial and industrial uses of filtered borehole water include commercial laundry and washing, cleaning of facilities, car washes, bin sanitising.
INDUSTRIAL USES
Cooling of industrial plant units, building and construction industry, supplimenting of agricultural supplies, growing of food in green house tunnels.
DOMESTIC USES
 Filling of swimming pools, watering of potted plants, flushing of toilets, bathing and laundry (see
Sundace Pools
).
COMMERCIAL USES OF REVERSE OSMOSIS WATER
Reverse osmosis water is suitable for use in the food and beverage industry, especially where municipal quotas are inadequate to meet demand.